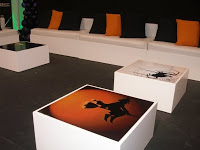 Ronen Bar and Furniture Rental gets in the Halloween spirit at the last networking event held by the
International Special Events Society
(ISES) on October 14th. This event had a "Spooktacular" theme in honor of Halloween coming up. Held at the beautiful Tye Studios in Fort Lauderdale, our furniture pieces included some of our classics with a twist. Amazing Halloween inspired hors d'oeuvres and cocktails were provided by Aaron's Catering that were decorated with the perfect touches for Halloween.
Our illumina box tables were custom made to display classic Halloween images like a witch flying on a broom and "Boo!" displayed on the table tops. With the light shining through the acrylic tops, it really added a special touch to the Spooktacular Event! Our classic white benches were given an extra Halloween flare with black and orange accent pillows.
It was a great start to celebrating Halloween thanks to ISES and its coordinators!